Who is Bank Plus
We put the PLUS in banking!!
Bank Plus, a locally owned financial institution with assets exceeding $155 million, serves more residential, agricultural and commercial customers than ever before with quality financial and real estate products, delivered by knowledgeable personnel from offices in four Northwest Iowa communities.
There are 30 members of the Bank Plus staff with more than 400 years of banking experience. Now that's experience you can count on to put the
PLUS
in your financial management plan.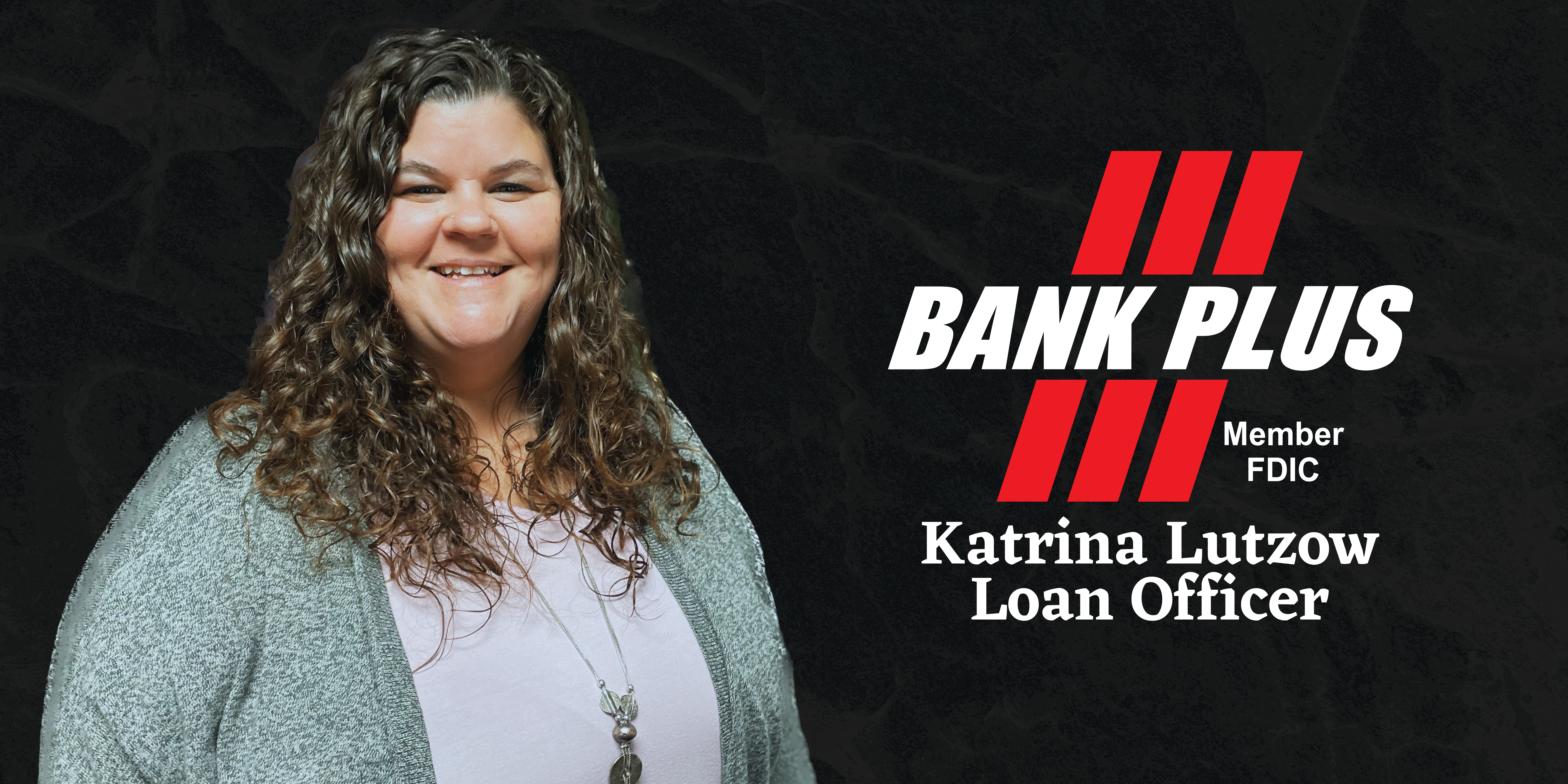 Lutzow Earns Certificate from Consumer Credit School
Estherville, IA- Katrina Lutzow of Bank Plus, Estherville successfully completed the Iowa Bankers Association Consumer Credit School, February 27 - March 3, 2023 in Ankeny, Iowa.
The school is an intense one-week program sponsored by the Iowa Bankers Association. The purpose of the IBA Consumer Credit School is to prepare consumer credit personnel who want to broaden their consumer credit knowledge or who have not been exposed to formal consumer credit education, to serve effectively and profitably as consumer credit officers. This is accomplished by developing a better understanding of the consumer credit function allowing students to better meet the credit needs of their customers and serve their local communities.
Katrina Lutzow, an Estherville native has been with Bank Plus in for 5 years. Starting her banking career as a Loan Processing Specialist, Lutzow was eager to learn more about lending and how to help those in the community. Since becoming a loan officer in January 2023, Lutzow has been a beacon of opportunity in the area for customers that are looking for options that fit their financial needs. After completing Consumer Credit School Lutzow accepted a nomination to be on the IBA Consumer Credit School Advisory Board.

Rick Rosburg is making a move to the Estherville Bank Plus office as Community President. Rosburg was previously welcomed back to the area last March when he started at the Bank Plus Swea City office, and is now being welcomed back into the Estherville community.  Rosburg is not new to Emmet County and looks forward to building on the foundation his predecessor, Craig Madsen, laid before him. Madsen will be shifting his focus to bank wide customer relationships and executive duties as Senior Lending Officer.
March 1, 2022


2021 Community Plus Program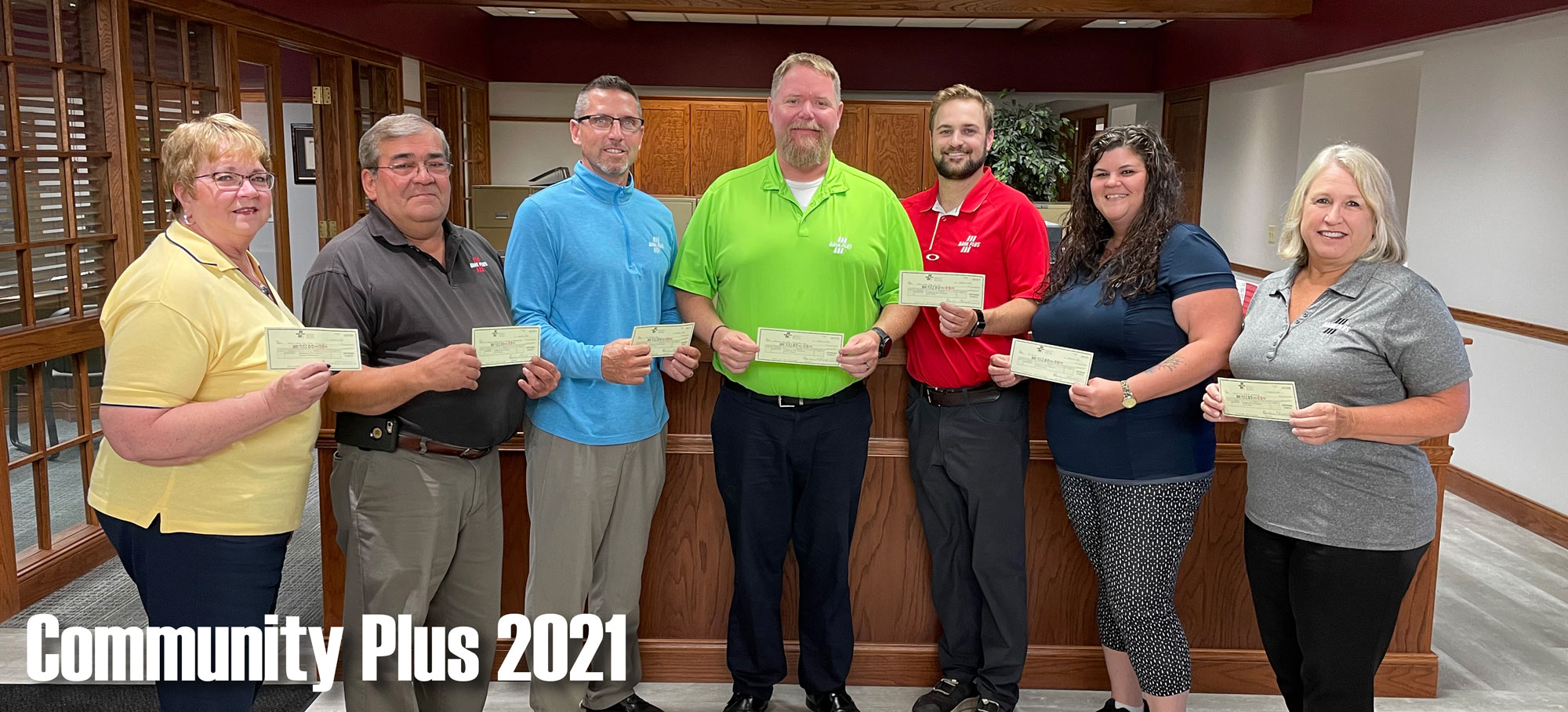 What started as a simple idea almost 2 decades ago at a locally-owned financial institution to encourage its staff to participate in community efforts, has generated nearly 19,000 hours of volunteer support and more than $20,000 in donations to primarily small, non-profit organizations  in Northwest Iowa from the bank and its employees.
In 2003 the Bank Plus Board of Directors created the Community Plus Employee Volunteer Incentive Program, challenging their staff to provide volunteer support for local organizations, while rewarding those efforts with financial donations to those same organizations in the names of employees who participate in the program.
"The bank wanted to reward our employees for supporting local community efforts with their time and talents, while providing financial support to those same organizations," explained Bank Plus President Kevin Pernick. "It's a force multiplier for good. The business and its employees work together to provide a greater level of support in our local communities than either of us could accomplish on our own."
"We often see pictures of businesses presenting big donation checks to individual community efforts and we do applaud that, in fact we do it too," Pernick explained. "But with this program Bank Plus wanted to provide smaller community efforts, that are just as important if not more so to our local quality of life, with physical and financial support. Many checks delivered by many helping hands can have a greater impact for more people than just one big check. Besides, we are a bank accustomed to handling a lot of checks, so this approach seemed to be more appropriate for us."
Every year since 2003 each employee who provided a minimum of 30 hours of annual volunteer service has been rewarded with a $100 donation from the bank, in the employee's name, to the organization of their choice, explained Pernick.  "We are very proud so many members of the Bank Plus family have responded to this challenge year after year!"
According to bank records, in 18 years a total 77 organizations have received 204 of the $100 checks, amounting to $20,400 in donations. "We have seen that many of our employees who qualify for the donation checks tend to select the same organization to receive the funds each year. In fact, some smaller organizations have received more than $1,000 from the bank on behalf of its employees."
Even a pandemic couldn't keep a good program down. Despite COVID-related restrictions over the last year, 14 Bank Plus employees still provided 640 hours of local volunteer support, including 11 who exceeded the annual 30-hour goal resulting in $1,100 in donations from their employer. Although that 640 hours was down from the bank's annual average of more than 1,000 volunteer hours a year, some employees became more creative in how they helped while observing safety protocols.
"We saw more employee efforts that observed social distancing practices while still providing some kind of support, such as cleaning up community spaces and neighbor's yards after a storm, directing outdoor youth activities and performing online services for local groups," Pernick said.  "It has been so much more than just participating in meetings and events."
In one instance bank employees jumped in to help set up an electronic communication program for one local group so it could continue communicating with its members without requiring everybody to gather for meetings. "They used their knowledge acquired on the job to assist the organization!"
"The Iowa communities where Bank Plus offices are located, in Emmet, Kossuth and Palo Alto counties, are more than just where we work, they are where our friends and families live," Pernick said. "In 2003 the bank wanted to find a way to be more than just another business in the area and our employees have responded in ways beyond all expectations."


2021 Cash for Ribbons - Ribbon Award Payment Program

BANK PLUS is once again proud to offer our Ribbon Award Payment Program in conjunction with the Emmet and Palo Alto County Fair. After the fairs are completed this year, our Estherville and Graettinger offices will be giving cash awards to FFA & 4-H members who bring in their highest earned fair award.

Please, only one cash award per person, so bring in your best ribbon. The cash will be awarded to any FFA or 4-H member who received an award at the 2021 Emmet County Fair. Only one ribbon rewarded for each member.


Visit our BANK PLUS office in Estherville or Graettinger
Wednesday, July 28 at 2:30 p.m.
To Receive Cash For Your Highest Earned Ribbon
Good Luck at the Fair!!!
Rick Rosburg Joins Bank Plus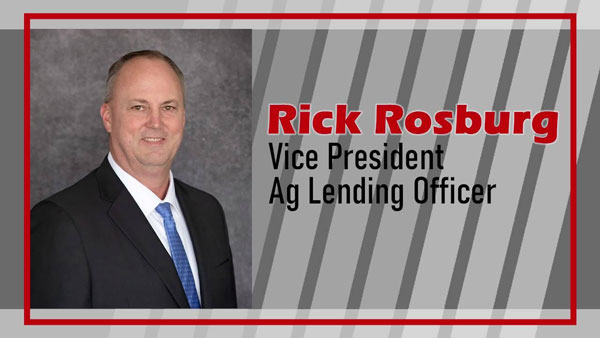 Bank Plus welcomes Estherville native Rick Rosburg back to the area as the locally owned financial institution's new Vice President and Ag Lending Officer. Rosburg will be based in the Swea City Bank Plus office.
"As an addition to our Bank Plus family, Rick brings his education, experience and understanding of the community to the area" said Bank Plus President and CEO, Kevin Pernick. "Rick's existing community ties are a strong foundation for relationships with current and future customers."
The expertise in ag production, seed sales and commodity marketing that Rick brings to his new position at Bank Plus stems from his 18 years of agriculture and banking experience in Emmet County, serving farm customers across Northern Iowa since 1993, and his agricultural education from Iowa State University.
Rick and his wife Deb attended school in Estherville. They have two sons, Alex and Jake, who both have started their own families in Rapid City, SD and Urbandale, IA.
"Coming back to where my family first laid down roots has always been our plan," said Rosburg. "When the fitting opportunity to work with Bank Plus came, so did the perfect time to make that move, and to start re-introducing myself to friends and neighbors. Building long-term trust with customers is important in small communities, and I know I will be able to use my knowledge and passion for ag lending as an asset to Bank Plus and its customers."
Contact Rick for your Ag Banking needs! 
---
Community Plus Employee Volunteer Incentive Program 2020


Bank Plus staff earns $1600 for non-profit groups in 2020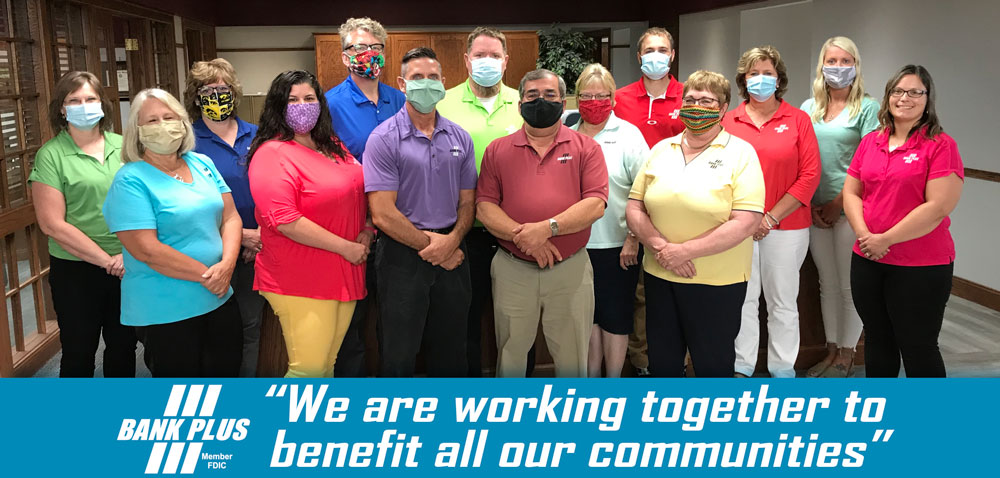 REGIONAL – Bank Plus employees who provided more than 1040 hours of volunteer service for non-profit organizations over the last 12 months have earned $1,600 in donations from their employer for their favorite charities through the locally owned financial institution's Community Plus Employee Volunteer Incentive Program.
Bank Plus encourages its employees to volunteer their time to local community efforts and those who volunteer at least 30 hours a year receive a $100 donation from their employer for the non-profit organization of their choice. "Bank Plus encourages our employees to join the bank's support of our local communities on a personal level with their own participation as community volunteers, and we're happy to reward their efforts with these financial donations," noted bank president Kevin Pernick. "As individuals and as a business we are working together to benefit all our communities."
Bank Plus employees performed 1043 hours of volunteer service in the last 12 months, including the following staff members who volunteered the most hours and have been rewarded with the $100 donations for their favorite charities: Trudy Blome, Barb Christensen, Melissa Guinn, Brooke Hartkopp, Brian Jackson, Jason Joyce, Sheila Koppen, Coleen Lundgren, Katrina Lutzow, Colleen McGraw, Ron Menendez, Ronda Olesen, Kevin Pernick, Matt Prill, Paul Schmidt, and Pam Spoo.
The organizations that received the $100 donations from the bank this year include:
Ledyard Farm & Business Association; Martin Luther High School Tuition Fund; Graettinger-Terril School PBIS Fund; Upper Des Moines Opportunities Food Pantry; Hillcrest Men's League; Graettinger-Terril Titan Wrestling Club; Swea City Quasquicentennial Celebration; Wallingford Lutheran Church Building Fund; H.U.G. Puppets; Owatonna Foundation; St. Patrick's Catholic Church Neighbor to Neighbor Fund; Graettinger-Terril School Foundation Titan Legacy Fund; Gloaming Lodge #482 Scholarship Fund; ELC Booster Club; Titonka Care Center Physical Therapy Department; Estherville Immanuel Lutheran Church Organ Fund.